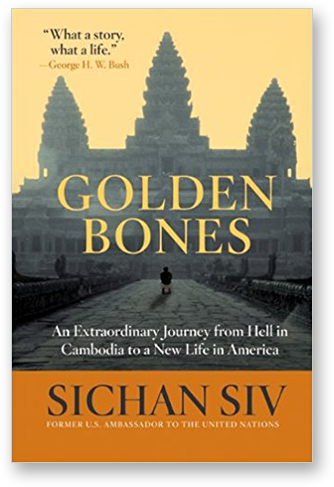 Golden Bones
While the United States battled the Communists of North Vietnam in the 1960s and '70s, the neighboring country of Cambodia was attacked from within by dictator Pol Pot and the Khmer Rouge. The Khmer Rouge imprisoned, enslaved, and murdered the educated and intellectual members of the population, resulting in the harrowing "killing fields"–rice paddies where the harvest yielded nothing but millions of skulls.
Young Sichan Siv–a target since he was a university graduate–was told by his mother to run and "never give up hope!" Captured and put to work in a slave labor camp, Siv knew it was only a matter of time before he would be worked to death–or killed. With a daring escape from a logging truck and a desperate run for freedom through the jungle, including falling into a dreaded pungi pit, Siv finally came upon a colorfully dressed farmer who said, "Welcome to Thailand."
He spent months teaching English in a refugee camp in Thailand while regaining his strength, eventually Siv was allowed entry into the United States. Upon his arrival in the U.S., Siv kept striving. Eventually rising to become a U.S. ambassador to the United Nations, Siv returned with great trepidation to the killing fields of Cambodia in 1992 as a senior representative of the U.S. government. It was an emotionally overwhelming visit.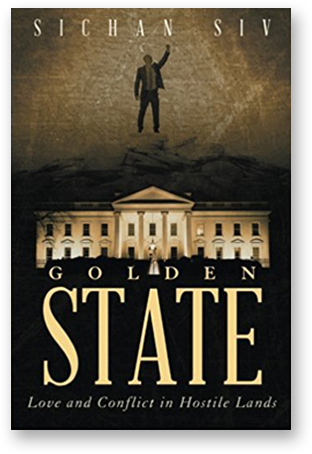 Golden State
It is the eve of his inauguration and President-Elect Bill Kartona is looking forward to the next twelve hours. Tomorrow, he will become the youngest person ever to be sworn in as president of the United States. With his wife asleep, Kartona answers a knock at the door, greets his national security adviser with a passionate kiss, leads her into the bathroom across the hall, and closes the door. A historic and potentially scandalous presidency is about to begin.
The next day, when Kartona takes the oath of office, other leaders driven by greed and hunger for power pause and take note. China and Russia want control of the world's largest mining resource. France is taking steps to rescue its former colony from being plundered by the nouveaux riches. While Kartona immerses himself in the various crises, his national security advisor tells him she knows the perfect person to help him defuse the tension among the four countries: Goldie Baume, a cowboy from West Texas.
With a world war appearing imminent, Kartona has no choice but to follow her lead. But soon, the new president will have more problems to deal with than he ever imagined. In this political thriller, a president weakened by scandals must rely on a Texas cowboy to restrain the powerful leaders before they destroy each other and the entire planet. As a romance is rekindled between the cowboy and his former French lover, only time will tell if love will triumph over conflict.