SICHAN SIV: FORMER US AMBASSADOR TO THE UNITED NATIONS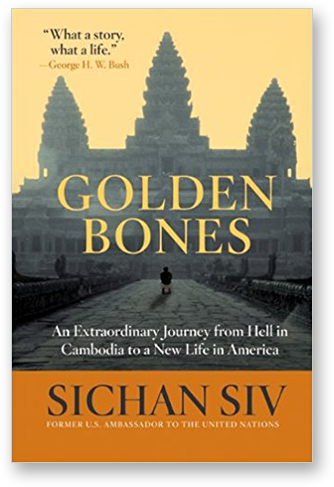 International Bestseller, Available Now!
Golden Bones: An Extraordinary Journey from Hell in Cambodia to a New Life in America
Synopsis: "While the United States battled Vietnamese Communists in the 1960s and 1970s, in neighboring Cambodia dictator Pol Pot and his Khmer Rouge declared war on their own people, enslaving and slaughtering anybody who disagreed with them. Sichan Siv knew he would soon be a target—ending up, perhaps, as one of the millions of anonymous human skeletons buried in his nation's Killing Fields—so he heeded his mother's pleas and ran.
Captured and forced to perform slave labor, Siv feared that he'd be worked to death or killed. It was only a matter of time. But he never abandoned hope or his improbable dream of freedom—a dream that liberated him, astonishingly, from his brutal captors and ultimately led him to the United States, where he later became a senior White House aide."
Sichan Siv is the international bestselling author of Golden Bones, an American dream story published by Harper-Collins, and the political thriller Golden State. In 2001, after unanimous confirmation by the US Senate, he was appointed by President George W. Bush as an Ambassador to the United Nations, serving until 2006. He is the recipient of numerous awards and honors, including the George H.W. Bush Award for Outstanding Public Service, Anne Frank Lifetime Achievement Award and Brazilian Academy of Art, Culture and History Honors.